.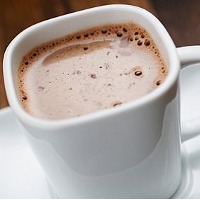 Minum
susu coklat
di kala cuaca dingin jadi favorit banyak orang. Rajin minum susu coklat secara teratur ternyata juga bisa mengurangi peradangang penyakit atherosclerosis (plak yang menempel pembuluh darah yang memicu sakit jantung).
Peneliti dari Spanyol menguji 47 relawan yang berusia 55 tahun ke atas yang berisiko terkena serangan jantung. Separuh relawan diberikan susu bubuk coklat 20 gram yang dicampur dengan susu tanpa lemak (skim) yang diminum dua kali sehari. Satu kelompok lagi hanya mengonsumsi susu coklat tanpa campuran susu skim.
Setelah satu bulan dilakukan tes darah, hasilnya partisipan yang hanya minum susu coklat dua kali sehari selama 4 minggu mencatat penurunan risiko peradangan. Sementara kelompok yang minum susu coklat ditambah skim tidak mengalami perubahan.
Partisipan yang hanya minum susu coklat juga mengalami kenaikan kadar kolesterol baik (HDL). Kajian tersebut telah dipublikasikan dalam The American Journal of Clinical Nutrition. Namun peneliti mengakui masih dibutuhkan penelitian lebih lanjut soal ini.
"Atherosclerosis adalah peradangan di pembuluh darah dalam kadar yang masih rendah. Tampaknya asupan coklat secara reguler bisa mencegah atau mengurangi peradangan itu," kata Dr Ramon Estruch dari University of Barcelona seerti dilansir dari New York Times, Kamis (12/11/2009).[detik]